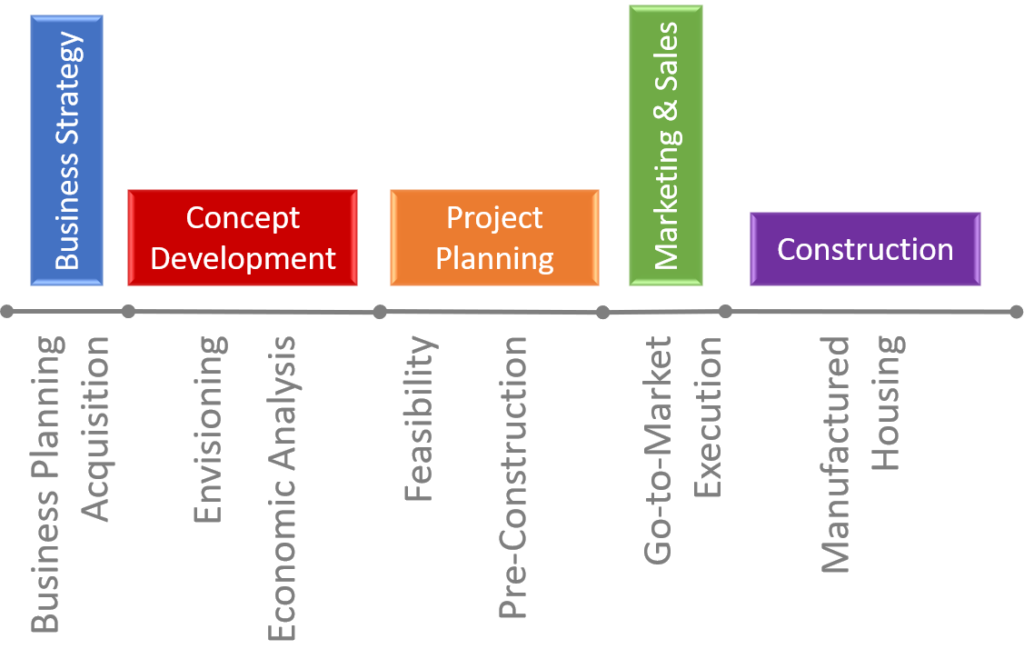 For over 20-years MarketPoint has been providing insight to developers and municipalities all over the world. We have helped shape the direction of over 96 real estate projects in 7 countries and have in-depth analytical knowledge in every stage of the development and construction process.  (Click here to view sample projects)
Our expertise is about providing you with actionable insight to make smarter decisions. From land acquisition to placemaking, project planning to stick built vs modular, or sales strategies like brand vs unbranded, we have a unique ability and proven track record to ensure your project is market driven and financially optimized.
Already Started? Depending on what your needs are, or what planning and research you've already done to date, we can help drive more actionable insight and fill-in the gaps to shape your development strategy into a market-driven, consumer wanting, competitively differentiated real estate offering.
Types of Developments:
Public/Private Partnerships
International Emerging Markets
Disaster Relief
Resort Destinations and Hotels
Master Planned & Lifestyle Oriented Communities
Urban High Rise
Mixed Used
Manufactured Housing
Affordable Housing
School Development
Not Sure Where to Start Your Project Planning?
Services:
Opportunity Analysis
Typically completed before land acquisition an Opportunity Analysis is about identifying and ranking the best opportunity that matches your business objectives.  The outcome will provide strategic business rationale and quantify/compare potential development opportunities for you to consider so you know where to put your money and focus your efforts.
Envisioning / Master Planning
The envisioning/master planning process weaves the market research, ideas, objectives and goals of the city/developer and the history of place and people, into a compelling, cohesive storyline that will describe what the opportunity is to distinguish this development master plan from other locations. The envisioning process brings clarity and describes the experience of the place for all stakeholders.  It serves as a guide for the projects team members, local officials, planned partners/operators and the entire development and construction teams. It will result in identifying and formulating qualities, values and characteristics for the master plan.  The process will unify your internal team, your consultants, trusted advisors and other stakeholders in the conceptual direction of the master plan.
Highest and Best Use Planning
Like a feasibility study but more strategic in nature. A Highest and Best Use Study is all about narrowing down your options, so you can identify what is most strategic for you and what you should plan for. The outcome will provide you with a quantifiable order-of-magnitude and prioritizes possible directions relating to product type potential, achievable revenue, market demand and absorption potential.
Feasibility Analysis
Feasibility Analysis takes the output of a Highest and Best Use Study and fine-tunes the market and consumer requirements for your project and locks-down the parameters of your project before you get crazy with design, amenities, homeowner/guest programs and a concrete pro forma. Yes we want your creative team to get as imaginative as possible and your financial team as serious as possible, but it needs to be within reason and backed-up with a logical foundation.
Demand Analysis and Target Market Definition
Build a statistical demand model to define the segmentation scheme and motivational profiles and create Buyer Archetypes to refine the focus and action for product development, business strategy, pricing and marketing/sales efforts.
A Target Market Hypothesis will identify opportunities to enhance messaging/relevance and new marketing directions by analyzing trends and customer behaviors and will serve as the first criteria in building a test-bed to determine how much marketing/sales efforts need to be refined and/or further targeted.
Consumer Research and Profiling
Consumer Research should be front of mind, all the time. If you're not thinking about who the consumer is or what your homeowner wants, chances are they aren't thinking about you either.
A lot of developers are intimidated by consumer research and put it off to the last minute (sometimes after it's too late).  Don't let this happen to you.
Consumer Research can be scalable, cost-effective and usually makes the difference between success and failure.
Project Due Diligence
Use the preliminary project plans to proceed with site specific reports and preparation for final board and City review and approval.  Deliverables typically completed are; Environmental Review & Reports (ESA update, Traffic, CEQA), Soils/Geotech Reports, ALTA (topo) Site Survey, Preliminary Project Plans (Incd Preliminary Grading & Utilities), Pre-Application or Case Management Meeting (Review Project w/ City), Regulatory Reviews and Design Approval.
Project Plans and Permitting
Begin moving forward with approved design to finalize construction plans and submit for approvals and manage the approval process and work with the city to ensure timely approvals. Deliverables include; CEQA Environmental Review, Entitlement/Zoning Applications, Construction Plans, Building permit approvals, first round Plan Check comments, coordinate Plan revisions, submit Narrative & Revised Plans, second round Plan Check comments, complete planning process until permits are ready to issue.
Pre-Construction
Coordinate the bidding process for qualified General Contractor to provide site specific work.  This will include preparing a notice to bidders or releasing RFP and finalizing the construction contract with selected GC. Act as the owner's representative to manage the site preparation and construction and oversee the process and finalize the inspection/approval process to receive final certificate of occupancy.  Deliverables include; releasing the Project Plans for bidding, conduct the bidding process, qualify and level bids, finalize Construction Contract with selected GC.
Marketing and Sales Optimization
Roadmaps, CRM systems, sales funnel analysis, acquisition/retention strategies, reporting and more. Our focus is building a foundation for sales and marketing teams to identify where the point-of-focus needs to be addressed, and what part of the process needs to be supported
Next Steps...
Want to see what kind of horsepower we can create? Work with experts in innovation, business strategy and execution.